Currently open for submissions: Speculative Fiction Special Issue
For Issue 122, Bamboo Ridge is seeking speculative work, which has seen an explosion in recent years, most notably from BIPOC and LGBTQI2S creators, who have reshaped the landscape of these genres, allowing us to imagine other worlds, other histories, other presents, other futures, and other ways forward that are not dominated by white male colonial fantasies.
Find out more here.
DEADLINE: August 31st, 2021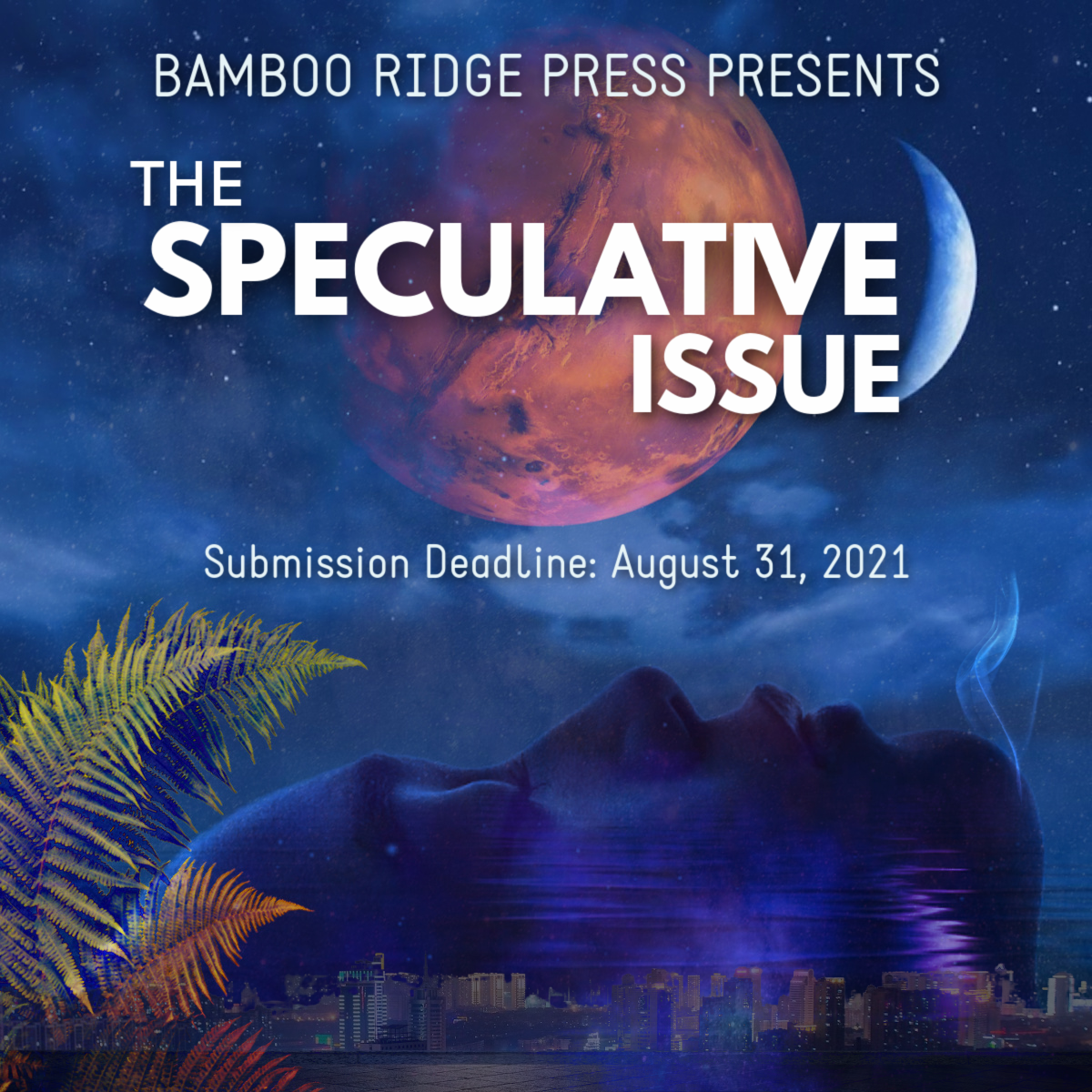 ---
*We are not currently considering book manuscripts.
What we're looking for: Thought-provoking and unforgettable pieces that sustain us. Writing that feeds the soul. While we invite submissions from all writers, we're especially interested in seeing speculative works rooted in, and from, Hawaiʻi, the Pacific region, and island communities. We're also particularly thrilled by storytelling that helps us think more deeply and imagines us into better possible worlds.
We're open to all written and visual forms, i.e. short fiction, poetry, plays, comics, experimental forms, hybrid/mixed-genre, and even speculative nonfiction (Google it).
What we're NOT looking for: We are not looking for work that promotes hate speech, presents stereotypes, and/or romanticizes or exoticizes a culture/place/ or people. Work that is clearly racist, homophobic, ableist, sexist, classist, or anti-trans will not be considered.
Email your submission to BRPsubmissions@gmail.com
Subject line should read "Submission, [last name], Speculative Fiction"
Forms: prose, creative nonfiction, poetry, stand-alone excerpts, visual art, experimental forms.

Prose (word count/page count): 5,000 words
Poetry (# of poems): up to 5 poems per author/submissions
Word or PDF. Send as an attachment.

Include your author name, byline if different, short bio, and contact information. Please also indicate the island that you are from. If you are not from the Pacific, please indicate your connection to Hawai'i or the Pacific region.
We value your submissions however, cannot respond to every email personally. If your work is chosen for publication you will hear from us as soon as possible. We appreciate your understanding and patience during the selection process and hope you continue to submit in the future.
While we will continue to accept submissions via regular mail, we prefer email.
You can mail submission and contact information (mailing address, phone, and email) to
Bamboo Ridge Press
P.O. Box 61781
Honolulu, Hawaii 96839-1781
Manuscripts should be in 12-point type, with one-inch margins on one side of 8.5″ x 11″ white paper. Prose should be double-spaced. Poetry may be single-spaced. To ensure a response to a hard copy submission, please include a self-addressed stamped envelope. Affix sufficient postage if you wish to have your work returned.
Please do not send your only copy of your writing; we will not be responsible for lost or damaged manuscripts.