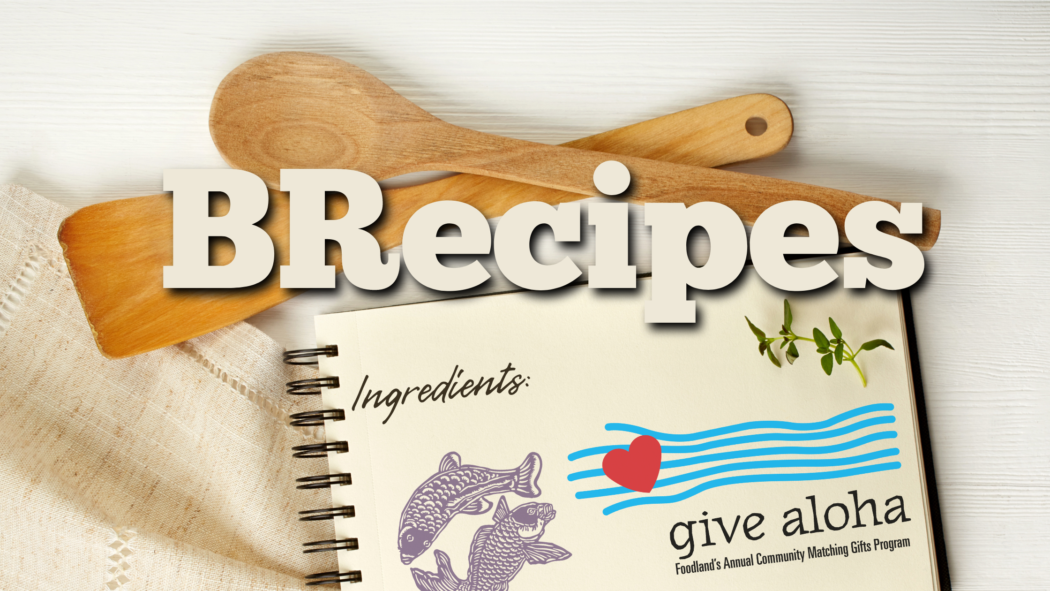 September is nearly pau and Foodland's GIVE ALOHA fundraising program is in full swing. Several of our BR writers have volunteered their go-to, easy recipes to give you an excuse to visit the grocery store. You'll definitely need fresh ingredients for these delicious dishes! Stop by any Foodland or Sack N Save location and make a tax-deductible donation to BAMBOO RIDGE PRESS (#77156). Foodland and the Western Union Foundation will match a portion of your donation to help us raise even more.
Don't forget your Maika'i card! You can also donate 250 Maika'i points, equivalent to a $5 donation, to help increase the matching gift for all participating organizations.
If you try any of these recipes tell us how it turns out in the comment section below. We hope you enjoy them! Now, on to the ono grinds. . .
—
The Lums' Pake Salad
In Hong Kong where I grew up, we never ate raw foods, so I never developed a taste for Western salads. However, I will make this one for my husband who can eat just this for his whole meal (and any leftovers for the next few days too).My inspiration for this salad came from several sources. For instance, StephenSumida came over for a potluck dinner many years ago and brought freshly-cut watercress from his family's farm, plus a simple dressing of mayonnaise and soy sauce. Another friend used tofu in one of her salads, and a third had thousand year old eggs. So I combined these Chinese ingredients into a Western style salad which I can also enjoy. I especially like the unusual combination of textures (e.g., the al dente thousand year old eggs) and the watercress' sharp but not bitter taste.-Chee Ping Lee Lum (Mrs. Wing Tek Lum)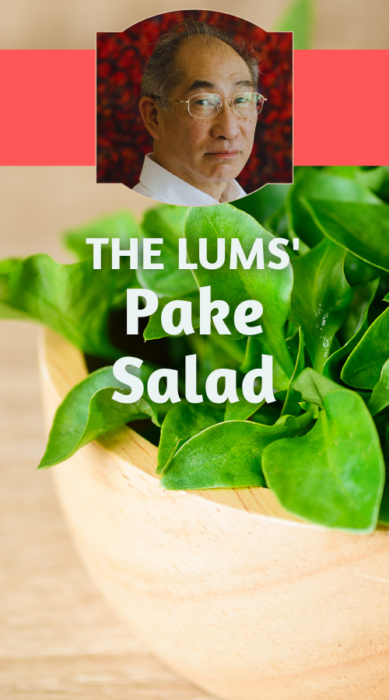 SALAD INGREDIENTS:
1 bunch watercress, cut into 1″ long pieces of only the soft parts (the leaves and a little bit of the stems); only 2/3 of the watercress will be used.
3 tomatoes (medium), cut into 3/8″ cubes.
1/2 tsp. salt.
3 thousand year old eggs, shelled, then cut into 1/2″ cubes.
1 block tofu (neither the really soft nor really hard kind), cut into 1/2″ cubes.
3/4 cups Chinese parsley, cut into 3/4″ pieces, loosely packed.
2 green onions, cut into 1/4″ lengths (including the white part).
1/8 yellow onion (medium), sliced very thin, and then cut into eighths.
DRESSING INGREDIENTS:
1/2 cup mayonnaise.
A pinch of white pepper.
1/2 tsp. salt.
1/4 cup soy sauce.
1/2 tsp. fresh ginger, finely chopped.
1/8 cup seasame oil.
TOPPINGS:
1/4 cup sesame seedsr pao fried until golden brown.
Watercress sprigs
Sprinkle the salt onto the diced tomatoes, mix, and let sit for half an hour, then draln. Heat 1 1/2 quart of water in a pot until almost boiling. Add the tofu andcook for 2 minutes until the water is about to boil again; then drain. Arrange all of the salad ingredients on a large serving platter and refrigerate for 1 1/2 hours (do not cover). Mix all of the dressing ingredients thoroughly.When ready to serve, toss the salad with the dressing. Then top with thesesame seeds and garnish with watercress sprigs. Serves 8 people as a saladcourse.

Gail's Tortilla Spinach Rolls
This is an easy recipe that's great for parties and potlucks! You can make the rolls the night before, stick them in the fridge to firm up, and cut them into pieces to arrange on a platter. Enjoy!-Gail Harada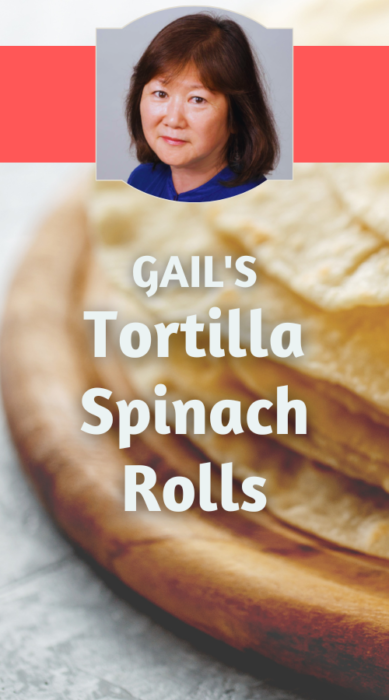 INGREDIENTS:
1 pkg. burrito size flour tortillas.
1 pkg. frozen spinach, thawed and squeezed well to remove water.
1 cup sour cream
1 cup mayonnaise
1 pkg. Hidden Valley Ranch Dip mix
Mix sour cream, mayonnaise, and Hidden Valley Ranch Dip with a spoon. Add thawed, squeezed spinach and mix well.
Spread a couple big spoonfuls of spinach sour cream filling on half the tortilla. Roll like a jelly roll and apply a little water at the end to secure roll.
Refrigerate overnight or several hours. Cut into 1 1/2- to 2-inch pieces for eating.
.
Jean's Almond Apple Tart
This is a recipe I got from Bruce Bruschi who got it from a friend, Andrea. It even appeared in the newspaper years and years ago. Foolproof. Delicious and easy! Try making it with pears or strawberries, too. Bon appétit!-Jean Yamasaki Toyama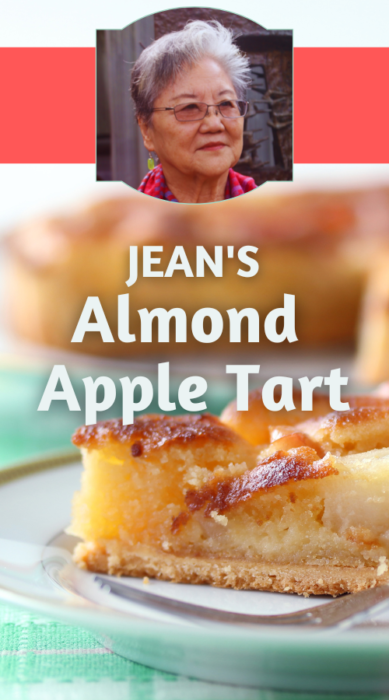 INGREDIENTS:
For a 9-inch tart shell
2/3 stick butter
1 cup flour
1 cup sugar
1 egg
1/2 teaspoon baking powder
A pinch of salt
Filling ingredients:
3 or 4 tart apples
Almond slices
Sugar for sprinkling
Preheat oven to 400 degrees. Grease and lightly flour tart pan. Melt butter, take off heat and add flour. Mix well. Add sugar and mix until smooth. Add salt and baking powder. Be sure mixture is at mild temperature at this point. Add egg. Mixture should be smooth but firm enough to hold shape when pressed into tart pan. Add more flour or butter if mixture is not right. Press into shell.Peel and quarter the apples, then slice into 1/4-inch slices. Arrange in shell, using your imagination. Put almond slices on top and sprinkle with sugar.Bake 35 to 40 minutes until apples brown and center is done.