Click here to view the original pdf.
ʻano ʻai & hallohauzit to all my calabash Bamboo Ridge ʻOhana…
i hope you guys stay all looking good and kicking back but playing om safe… i know i no need remind you guys as da season now when you goin stay get uku plenty mails… dakine insai da mailbox and dakine ontop yo computah from all ovah da place (especially from all da dot orgs li'dat)… asking fo yo help fo dishout dakine makana dollahs… as why I figgah no sense beat around da bush and jus puka chru and come out tell you guys first ting awready wat dis lettah all about in da first place… so, i humbly ask you guys fo yo kōkua… big time if can… you can make one donation… o subscribe fo yoself… o go buy subscription gifts fo yo friends… o go fo broke and go fo evryting… eh, i know you gotta eat and evrybody stay getting hahd time… so do wat can…
if can, can… if no can, no can… maybe latahs… jus no foget us folks at Bamboo Ridge Press… as wat i always like fo tell people… mahalos plenty!
(wait, no pau yet but)… and i pretty shuah just about now, you stay tinking who dis babooze like money and why he stay ask us in one funny kine Pidgin kine way… and yo patnah go tell, "who da guy?!?"… okay, since i wen awready get past da hahd paht, i like talk story wit you folks lilibit… stuff like who me?… and how come me da one gotta do dis?… and wat fo we gotta do dis?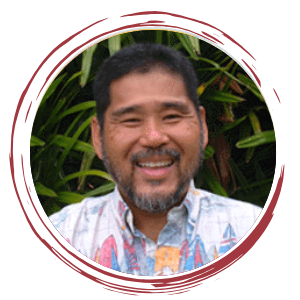 my name kent… and most of you probably donno who me and nevah evah heah my name befo… but i been around wit Bamboo Ridge at least 22 years now… evah since da 20t annivershry pahty we had McKinley High School wit da lunchwagon and shave ice machine… i was deah… because Darrell wen go ask… so nowdays, if we get food kine stuff, den most time i da guy behind da table making shuah get nuff fo eat… and you get someting fo eat om wit and fo go make plate take home aftah… as all wat i use to do… until today… you see, i no write… except one time wit my friend E… was in 1999 Issue #75… was one non-fiction kine article about Pidgin… and i tink maybe was BRP first one li'dat… anyways, i hate write… and evrytime i tell i hate fo do someting, i get bachi… as karma dat… as why i wen end up in one academic life… so i tought i going be smaht and pick 'Pidgin' fo study… aftah all, people only talk Pidgin… nobody write om… guess wat!?… was wrong… had writahs like da BRP people… you know… like Darrell and Eric and Lois-Ann and Lee and Lee and one whole bunch oddah people who like write Pidgin…
i know i said "talk-story lilibit"… sorry so walaʻau… but to make one small story mo big, real important you stick wit me… so how come me da one had to write dis lettah?.. 2 tings… as all Marie's fault and da pandemic… dis use to be her job fo go ask… and aftah, was Jean wen try and den Wing Tek… and must be no was so good i tink, because we still gotta ask people fo money all da time… so finally dey said go ask me because i no mo notting fo do… da pandemic wen go take away all our non-virtual kine events, so no mo food… so i no mo job… and dey said, "mo bettah go make om write om in Pidgin because as wat he akamai in and people tell as one dying art now"… boy oh boy, i tell you dis karma stuff real strong and no go away… and fo make tings mo worse, i tell evrybody i hate fo ask people fo money… but i have to… i believe Marie stay watching me as why… wit her sweet smile… i can even heah her voice…
okay… hang in deah… coming in fo one covid-free landing… so, you remembah da BRP mission statement?… was someting like one local publishah fo (local) stories by, fo, and about locals… as pretty much how stay still yet… but right now, we stay trying real hahd fo keep up wit wat we was doing fo da last 42 years… trying to keep our 'respectability' by helping writahs write deah legacies fo 'affirm' our place in human histry… all dis while trying fo no act high makamaka o tantaran… we had to shift gear but… and as mean like always, we stay kinda 'innovating'… we wen go publish Kona Winds… was Scott Kikkawa and our first noir mystry fiction (bdw- get his 2nd one Red Dirt coming out next year 2021)… all da research he wen go do make you tink as ja'like one historical novel you stay reading… and den had da poet Cathy Song one, All the Love in the World… she wen decide fo write prose dis time… one shoht story collection ja'like one novel… da whole ting put togeddah one family saga fo 3 generations… and da last one dis year is one supah antology we call Issue #118… dis one get some plenty writahs (about 70)… we seriously stahting fo get mo and mo people from all ovah like write fo us… dis Issue #118 full on diversity… next year da one coming up (drum roll)… Kīpuka, one special kine antology… and suhprise suhprise, believe it o not… we had da name from last year awready, way befo da pandemic wen even staht… so go look up da Hawaiian word 'kīpuka' if you donno wat mean… goin be broke da mout ʻono dis one… one real killah rippah…
so my ʻOhana, we wen jus land… hope you wen enjoy you guys trip… and eithah way, even if you gotta quarantine o not please make house in our new website: www.bambooridge.org
shoots den… please keep safe ahd healthy!… we need yo kōkua!
one bumboocha mahalos plenty & leitalohaz,
kent sakoda (yo BRP in-captive prez)