A very Happy May to all of you writers, and a special aloha to all you Kalani High School Falcons.  There are three writing prompts for this month's contest.  Your mission, should you choose to accept it, is to write a piece of any kind, a story, a poem, an observation, a dialog, a personal anecdote, or any hybrid mix of styles you like.  The prompts are springboards; go wherever they might take you.  Or go ahead and ignore them, and write whatevahs.
The only restriction this month is that your piece must be 250 words at most.
Here are the three prompts: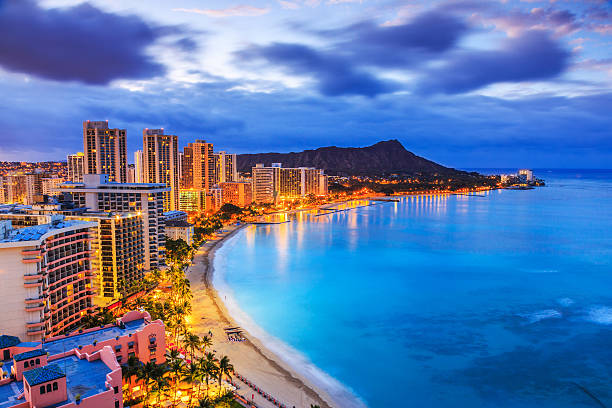 1.
Waikīkī
by Andy Cummings
There's a feeling deep in my heart
Stabbing at me just like a dart
It's a feeling heavenly
I see memories out of the past
Memories that always will last
Of the days that used to be
(alternate line:  Of a place beside the sea)
Waikīkī
At night when the shadows are falling
I hear the rolling surf calling
Calling and calling to me
Waikīkī
Tis for you that my heart is yearning
My thoughts are always returning
Out there to you across the sea
Chorus:
Your tropic nights and your wonderful charms
Are ever in my memory
And I recall when I held in my arms
An angel sweet and heavenly
Waikīkī
My whole life is empty without you
I miss that magic about you
Magic beside the sea
Magic of Waikīkī
* * * * *
2.
If you really want to hear about it, the first thing you'll probably want to know is where I was born, and what my lousy childhood was like, and how my parents were occupied and all before they had me, and all that David Copperfield kind of crap, but I don't feel like going into it, if you want to know the truth.
—  The Catcher in the Rye, by J.D. Salinger
* * * * *
3.
"Ho, Just Cause I Speak Pidgin No Mean I Dumb," by Diane Kahanu, from Bamboo Ridge, The Hawaii Writers' Quarterly, No. 25, Winter 1985, New Moon
Pidgin short.
Fast.
Match.
If I say
What are you going to do with that?
No say how
I feeling curious.
What you going do with that?
Now you know.
I not just nīele.
I like know
but I ain't
no cop.
Pidgin safe.
Like Refuge, Pu'uhonua,
from the City.
* * * * *
Remember, there's a 250 word limit.  Everybody, let's write!
By participating in the Bamboo Shoots community, you agree to the following rules:
We reserve the right to remove content that promotes hate or gratuitous violence. Be respectful and courteous to others.
All contest challenge entries must be submitted by the designated
Enter as many times as you like using a trigger/prompt (this page).
Contest Challenge entries can be prose (including short stories, nonfiction essays, or whatever you write), poetry, or plays -- or any type of hybrid writing you dream up.
Every entry must have a title -- unless you choose to enter a haiku, in which case you can simply enter the word haiku in the title section.
All content/entries should be original work. You retain ownership of your entries; however, we may ask to use them elsewhere on the site or on social media to help promote Bamboo Ridge and/or the Bamboo Shoots online writing community.
Winners will be announced with all possible speed after the end of each month. Winners receive 10 Bamboo Bucks credit to spend in the BRP online bookstore. Bamboo Bucks have no monetary value outside of the online store.
Entries may also be selected for publication in the regular Bamboo Ridge Journal. If your piece is chosen, the editors will contact you via the email address on file.
Please note that you need not enter the contest challenge in order to post on Bamboo Shoots. You may post other writing if you choose. We welcome that here:  Click this link to go to Shoot da Breeze.