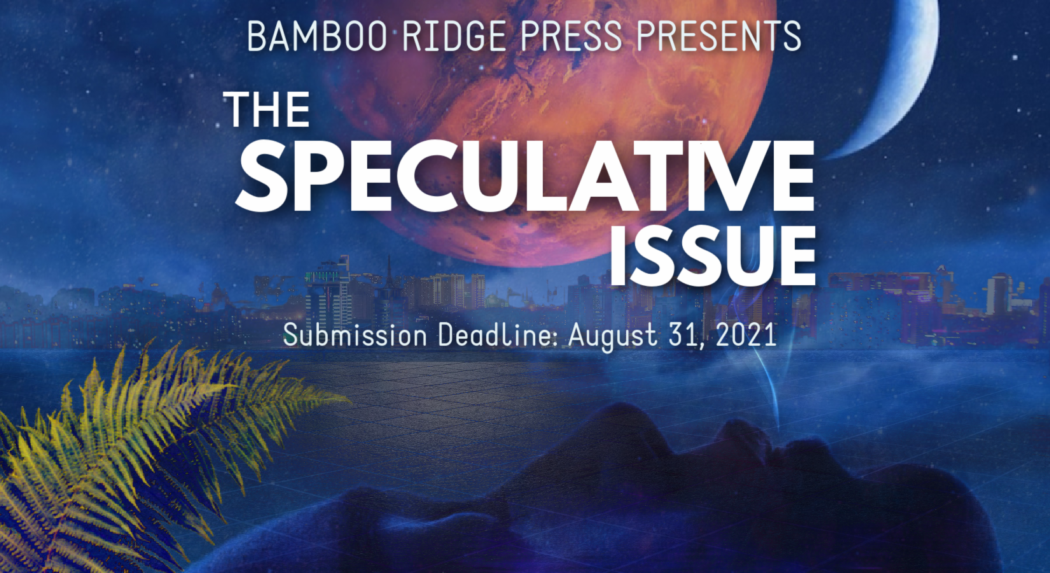 Email submission to:
Subject line should read  "Submission, [last name], Speculative Fiction"

Forms: prose, creative nonfiction, poetry, stand-alone excerpts, visual art, experimental forms.

Prose (word count/page count):

5,000 words

Poetry (# of poems): up to 5 poems per author/submissions

Word or PDF. Send as an attachment.

Include your author name, byline if different, short bio, and contact information. Please also indicate the island that you are from. If you are not from the Pacific, please indicate your connection to Hawai'i or the Pacific region.

We value your submissions however, cannot respond to every email personally. If your work is chosen for publication you will hear from us as soon as possible. We appreciate your understanding and patience during the selection process.
For Issue 122, Bamboo Ridge is seeking speculative work, which has seen an explosion in recent years, most notably from BIPOC and LGBTQI2S creators, who have reshaped the landscape of these genres, allowing us to imagine other worlds, other histories, other presents, other futures, and other ways forward that are not dominated by white male colonial fantasies.
For this issue, we're adopting a broad view of "speculative," encompassing science fiction, magical realism, high fantasy, climate fiction, fabulism, alternate histories, slipstream, the new weird, horror–in short, anything that encourages us to "imagine otherwise."
We're open to all written and visual forms, i.e. short fiction, poetry, plays, comics, experimental forms, hybrid/mixed-genre, and even speculative nonfiction (Google it).
Here in Hawaiʻi, our word for science fiction is mōhihiʻo, a combination of the words mōʻike (to interpret dreams or the feeling you get when you experience something in the way your ancestors did) and hihiʻo (a vision). Mōhihiʻo encompasses and invites visionary works still rooted in ʻāina, ancestral practices, and beliefs.
While we invite submissions from all writers, we're especially interested in seeing speculative works rooted in, and from, Hawaiʻi, the Pacific region, and island communities. We're also particularly thrilled by storytelling that helps us think more deeply and imagines us into better possible worlds. In this vein, we are not looking for work that promotes hate speech, presents stereotypes, and/or romanticizes or exoticizes a culture/place/ or community. Work that is clearly racist, homophobic, ableist, sexist, classist, or anti-trans will not be considered.
We're excited to see your work and hope that you'll submit. Don't forget, the deadline is August 31, 2021.
Please feel free to email [email protected] if you have any questions. Or send us a DM on Facebook or Instagram!