As the year comes to a close, we would like to take a moment to express our sincere mahalo for your support and aloha in 2022.
This year your tax-deductible donations have helped us produce two new books (Flowers of Hawaiʻi and Snaring New Suns) supporting seventy emerging and established writers and artists. These funds have also enabled us to digitize several out-of-print BR issues for our free access archives, and to host eighteen events and readings for people in the community and abroad, including hundreds of students.
Our Bamboo Shoots community has been very active this year with an increase in participation in our casual monthly writing contests. And Go Try Play Write with Kumu Kahua Theatre is still going strong!
Literature has the power to inspire, inform, and enrich. We are grateful for the opportunity to bring new voices and stories to the world through our books and events, and none of it is possible without YOU!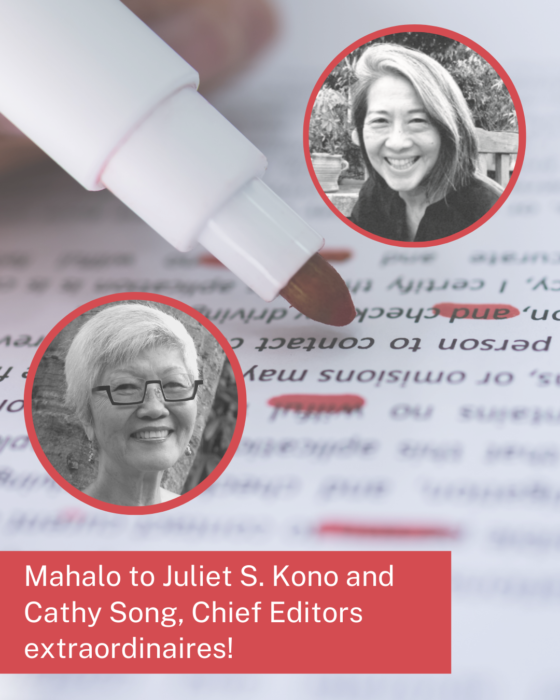 Cathy Song, New Senior Editor
We especially appreciate and want to recognize at this time two very special members of our 'ohana, Juliet S. Kono, our longtime leader retiring at the end of this year, and Cathy Song, who is taking Juliet's place as senior editor. Aloha and mahalo to both!Juliet's first Bamboo Ridge Press co-editor was Cathy Song. Their collaboration resulted in Sister Stew: Fiction and Poetry by Women, published in 1991. Now one editor is passing thetorch to another. To all of us, Cathy writes:

"As its 45th Anniversary approaches, I have accepted the editorship of Bamboo Ridge Press, one of the country's oldest and longest running independent literary small presses. During my tenure, I will do my best to honor the vision and legacy of founding editors Darrell H. Y. Lum and Eric Chock, and of Juliet S. Kono, who has continued their work…
Publishing more than 120 issues of Bamboo Ridge has continued to be a labor of love, requiring the dedication of so many individuals, many who may not be writers or visual artists themselves but who have contributed their talents because they believe a community is richer when it values and supports its diversity and wealth of literary and artistic expression.
We look forward to next year's 45th anniversary issue, edited by founders Darrell and Eric. Showcasing the work of seventy writers, this landmark anthology will be a testament to Bamboo Ridge's continuing commitment to Hawaiʻi literature and arts. Such an endeavor deserves our ongoing support."
So, what's ahead in 2023?
Here's a quick look at what we have lined up for next year!
We are looking forward to Char Siu, the third noir novel by Scott Kikkawa, a real-life law enforcement officer whose first two mysteries—Kona Winds (2019) and Red Dirt (2021)—are recognized as "Essential Hawaiʻi Books You Should Read" by HONOLULU Magazine.

The 45th Anniversary issue of Bamboo Ridge is in production! Founding editors Eric Chock and Darrell H.Y. Lum have been hard at work reading the record number of submissions that came in.

More great events with Lee Cataluna and her new book of plays, Flowers of Hawaiʻi.
Group readings and discussions with editors, writers, and artists of Snaring New Suns.
At least a dozen additional BR titles will be added to our free access digital archive.
The launch of an expanded BR Oral History page with transcripts, audio, and more.
Download a PDF of our BR Holiday Newsletter for more seasonal scoops and consider making an end-of-the-year donation or purchasing a subscription. Again, mahalo for your kōkua in helping us share and foster the work of so many talented writers.
We hope that the holiday season brings you joy, happiness, and time to relax and recharge. We look forward to continuing to bring you great literature in the new year and to working together to make the world a more vibrant and connected place through the power of the written word.