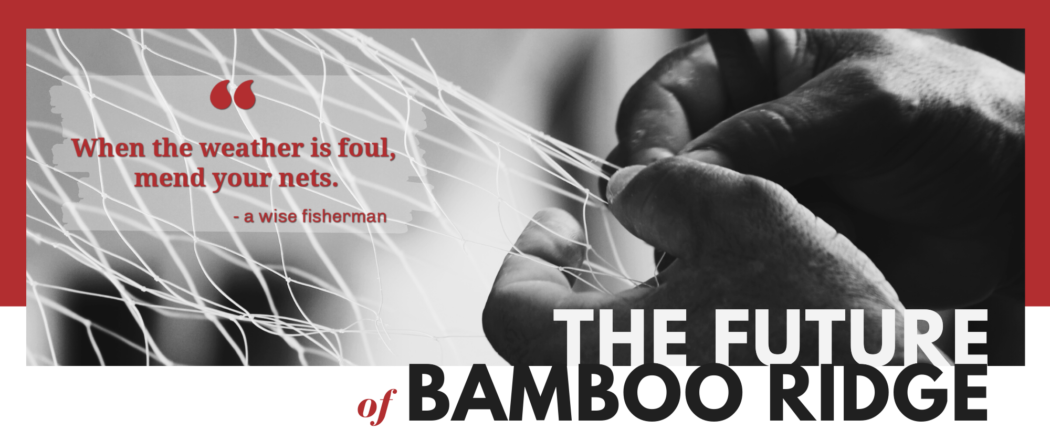 Dear Fellow Lovers of Local Literature:
Some of you may recognize my name as a writer whose poems have been published in Bamboo Ridge. However, I am now writing in my capacity as business manager of Bamboo Ridge Press, a position that I have been honored to serve since 1986. On behalf of our nonprofit organization, I am seeking your financial support to help us through this current pandemic.
To be frank, our income essentially disappeared for three months. Our local distributor has had to suspend book orders and, with the lockdown of Kaua'i and absence of tourists, there has been no demand for our bestselling Kaua'i Tales series. Moreover, earlier this year our old website met its "end of life" and added to the perfect storm of this pandemic.
Nonetheless, during these several months of sheltering in place, Bamboo Ridge Press has been hard at work continuing to fulfill our mission to publish literary, visual, and performing arts by, for, and about Hawai'i's people. Our current projects include:
All the Love in the World (Bamboo Ridge #117)
Cathy Song's collection of linked stories, which was released in June. A second subscriber mailing is scheduled for August to precede Bamboo Ridge's first-ever virtual book launch on September 12th. Watch for details and join us!
Bamboo Ridge #118
A regular issue of our Journal of Hawai'i Literature and Arts, due out in the fall. Editors Juliet S. Kono and Jean Yamasaki Toyama selected works by almost 70 authors, with many new names, along with those of established writers. In the coming weeks our production team of Normie Salvador, Gail N. Harada, Joy Kobayashi-Cintrón, and Jui-Lien Sanderson will prepare the final files for our printer, our hope being to release this issue in November. To celebrate the occasion, Misty-Lynn Sanico, Alyssa Lo, and Gail Kuroda are planning online readings and panels that we hope will involve contributors to the anthology from across the country.
Kīpuka (Bamboo Ridge #119)
Edited by Donald Carreira Ching, Meredith Desha Enos, Brenda Kwon, and Misty-Lynn Sanico, and scheduled to be released in early 2021. Highlighting the nuances of a literary landscape within a changing world, this special issue responds to and engages with complex social and cultural themes and the unique challenges of living in contemporary Hawai'i.
Red Dirt (Bamboo Ridge #120)
Second in the noir detective series set in 1950s Honolulu, by Scott Kikkawa. His début murder mystery, Kona Winds (Bamboo Ridge #119) has been well received, particularly on the mainland where the book has been moving up the Small Press Distribution Fiction Bestsellers List since the beginning of this year.
Preservation Project
Through the efforts of Jean Toyama and Gail Kuroda, we have also been able to establish an Open Access Edition of some of our earliest issues in a repository site at Kapi'olani Community College. This year additional issues will be posted, hopefully including tapings of our earliest live readings, newly discovered by founding editor Darrell H. Y. Lum.
New Website and Digital Initiatives
Our marketing director Misty-Lynn Sanico assumed additional duties and created a brand new website, www.bambooridge.org, so that we are now able to virtually re-engage with our Bamboo Ridge family. A new YouTube channel has also been created with videos added regularly, including to the "Bamboo Ridge at Home" series of readings. Other new and interactive content or events are also forthcoming.
Grants
The press is appreciative of the two small CARES Act loans that will carry us through this summer. Grant writer Ken Tokuno has been hard at work submitting applications to both government agencies and private foundations and hopefully we will merit some support to supplement our income.
In order to help us continue these activities throughout the rest of the year, we are appealing to you for your financial assistance. We ask you to kindly consider one or all of the following options:
Contributions
Bamboo Ridge Press is a 501(c)(3) charity and accordingly, all contributions are tax-deductible to the fullest extent of the law. In addition, pursuant to the recent CARES Act, an individual may this year take a $300 above-the-line deduction for cash contributions to charities, regardless of whether or not the individual itemizes deductions. You can donate today, through our new online bookstore or click the buttons below.
Subscriptions
If you are not yet a subscriber, please consider purchasing a subscription so that you can receive all of the above-mentioned forthcoming publications. (Renew or subscribe soon to be included in the August mailing of All the Love in the World.) If you are already a subscriber, we would welcome your extending your subscription. Or, perhaps you may be interested in gifting subscriptions to family and friends, so that they can enjoy the local literature we publish as well.
Book Purchases
You may already have a handsome collection of our publications. However, we invite you to peruse the bookstore on our new website, to see if there are any back issues that you may not have read. Again, we would also be happy to send gifts of some of your favorite books to others. Come to our website at www.bambooridge.org to see how you can help us.
Donate your old vehicle
Please consider Kokua in Kind on O'ahu to donate your car, truck, van, motorcycle, or boat—running or not—to Bamboo Ridge Press. There's even free towing available.
Get in Touch!
Email us at read@bambooridge.org and tell us about your experiences with Bamboo Ridge Press publications. Let us hear from you. Follow us on Facebook, Instagram, and Twitter and engage with us. Watch our videos on the Bamboo Ridge Press YouTube channel. Help us reconnect with authors we have published over the years and have lost contact with. We would love to hear from you. Please drop us a note.
Mahalo for your continued support!
Wing Tek Lum