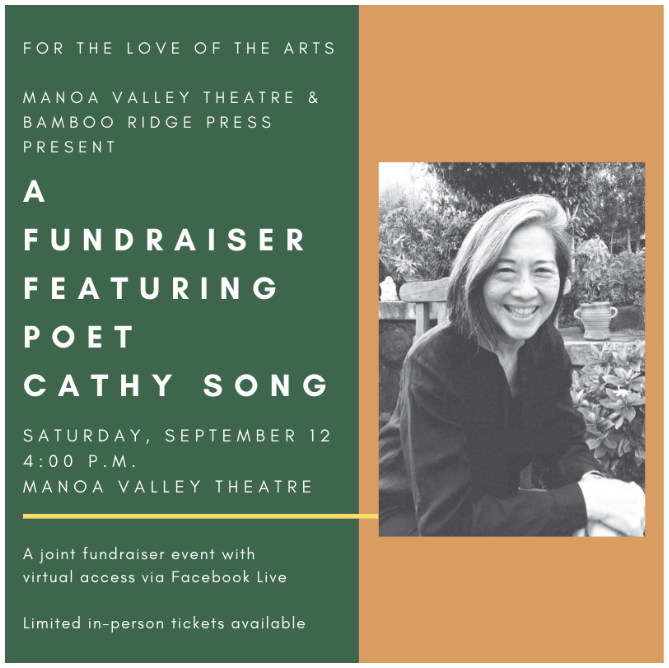 FOR THE LOVE OF THE ARTS:
A FUNDRAISER & BOOK LAUNCH FEATURING CATHY SONG
To keep our local arts alive, Manoa Valley Theatre (MVT) and Bamboo Ridge Press are collaborating to host a joint fundraiser featuring award-winning poet Cathy Song on Saturday, September 12 at 4:00 PM. Limited in-person seating is available through the Manoa Valley Theatre box office with free virtual access streaming on Facebook Live. Tax-deductible donations are encouraged and can be made at any time to either organization through their respective websites. (See links below.)
Cathy Song will read live on stage to launch her new book All the Love in the World, which can be enjoyed as a collection of individual stories or sequentially as one narrative. The internationally acclaimed poet imbues the bookʻs prose with a unique lyrical style, following a cast of complex characters as they grow through love and loss against the backdrop of a changing world.
The ongoing pandemic has been challenging for many struggling nonprofit organizations. This event is the first of its kind for both Manoa Valley Theatre and Bamboo Ridge Press and will bring in much needed funds as they adapt to the changing climate. Monies raised will go to help both organizations continue to create and promote local art and literature.
A video recording will also be available via YouTube a couple weeks after the event.
Saturday, September 12th 4:00 PM
LIVE on stage from Manoa Valley Theatre
Virtual Access: FREE via Facebook Live and YouTube.
Follow Bamboo Ridge Press and Manoa Valley Theatre on Facebook
Follow Bamboo Ridge Press and Manoa Valley Theatre on YouTube
Event safety and COVID-19
We appreciate your support and your health and safety are a priority. Masks must be properly worn by all audience members in the theatre at all times and temperatures will be taken using a digital no-touch thermometer at the door. Hand sanitizer stations will be available and no paper tickets will be issued. Your name will be checked on a guest list so your seat must be purchased online in advance. Seating is very limited as parties will be appropriately distanced according to health guidelines.
In the event that the in-person part of the event needs to be cancelled due to a COVID-19 shelter-at-home mandate, customers will be contacted and will be able to watch via Facebook Live. Refunds can be processed if desired but can also be donated.
Buy the book!