"I got into San Diego in the evening and checked into the hotel. I found that the books I put into my checked bags survived…"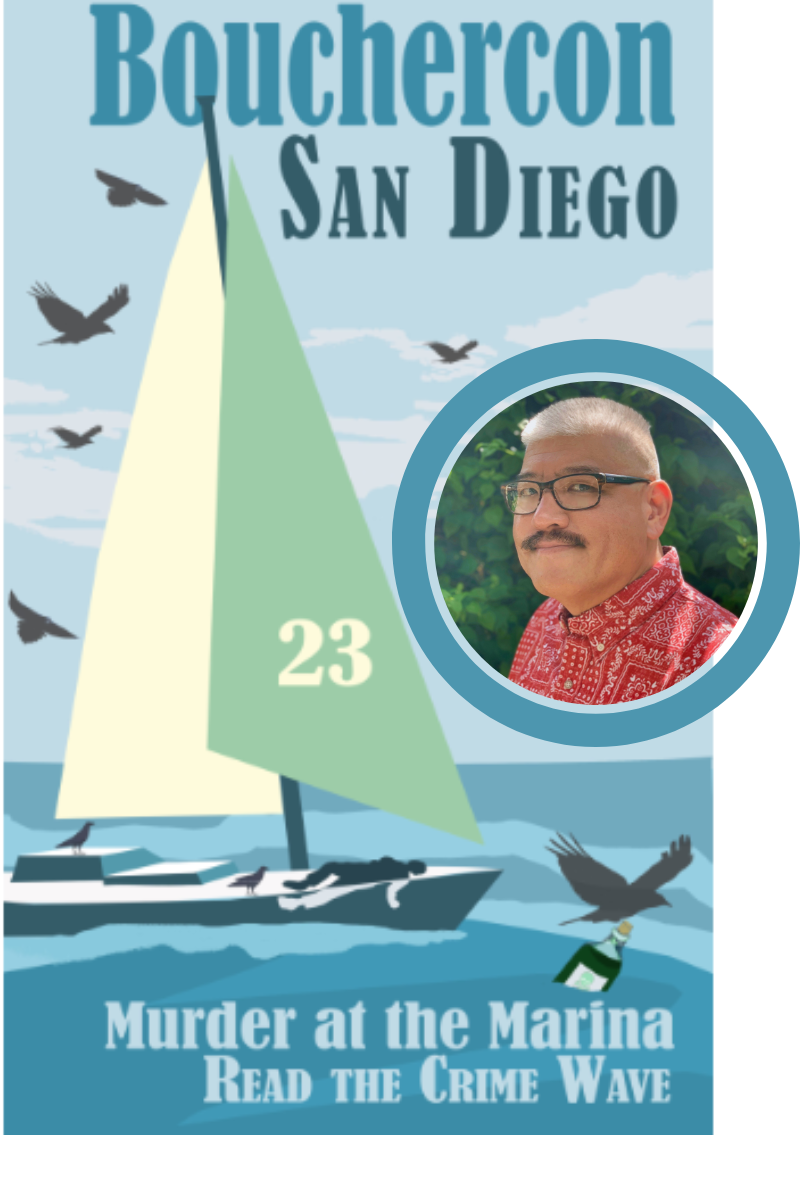 Scott Kikkawa shares a recap (report style) of his experiences as both fan and author at the popular mystery convention Bouchercon!

Tuesday August 29, 2023:
Checked in at Honolulu International Airport for my flight to San Diego with two overweight bags. I was flying with five copies each of Kona Winds, Red Dirt and Char Siu for sale in the Bouchercon Book Room. All "small press" authors had to hand deliver their books for consignment sale. I was determined not to return with any, even if I had to buy the unsold copies myself and give them away. My five-hour flight was one long, incomplete nap interrupted frequently by at least three screaming infants and occasional reading of my fellow panelists' books. At the hotel, I found the books in my luggage were miraculously undamaged.
Wednesday August 30, 2023:
I registered for the convention, unloaded the books at the consignment table in the Book Room and attended a VIP dinner (I was invited because I wrote Naomi Hirahara's tribute for the program). I was probably the least famous of the twenty or so people at the dinner which included David Baldacci, Sara Paretsky, Lori Rader-Day, Jacqueline Winspear, Matt Coyle, and, of course, Naomi Hirahara. Sara Paretsky talked mostly about University of Kansas basketball. I did a lot of smiling, nodding and telling these famous people about my work when asked.
Thursday August 31, 2023:
I took in some panels and was approached by
Sara Paretsky
in the break room, who asked me if I remembered her from the previous night. I told her that was my line. We talked, and I took a photo with her. I now have evidence that I actually talked to the creator of V.I. Warshawski.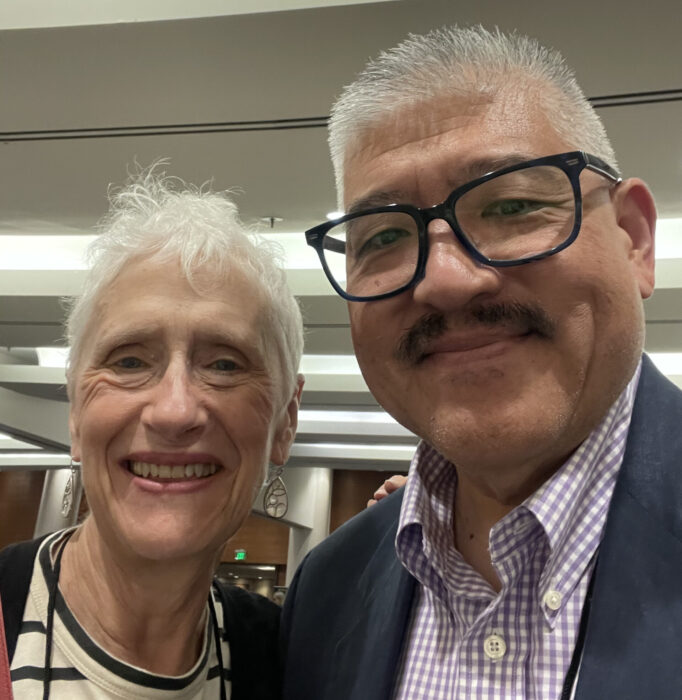 Friday, September 1, 2023: 
I listened to a panel that included Megan Abbott. Megan Abbott! After the panel, I had her sign my copy of Die a Little, her debut novel set in postwar California, and one of my favorite books. She asked me what I wrote and I told her, then she told me how much she loved the period, and that she'd like to read my books (Really?). I gave her one of the review copies I had of Red Dirt (one less book to carry home!). She said she'd read it on the plane ride home.
We had our poke lunch organized by Naomi Hirahara (it was California poke, that strange "customize your bowl" that includes stuff like edamame and avocado—it tasted fine, though). The lunch was attended by
Kate Beutner
, who wrote a period mystery called
Killingly
(SoHo Press). Kate taught Creative Writing at UH Manoa for about five years until a couple of years ago. She knew Gary Pak, Rodney Morales, Pat Matsueda and others.
I had my panel at about 2:00 on Friday after our lunch. We had about 120 people in the audience and I made friends with fellow panelist Ovidia Yu (the Agatha Christie of Singapore). The panel must have gone well—I had a lot of audience questions, and at the signing after the panel I was informed that after two days of no sales, all of my books sold out in ten minutes. The last people in my signing line asked me to sign their programs because we ran out of books!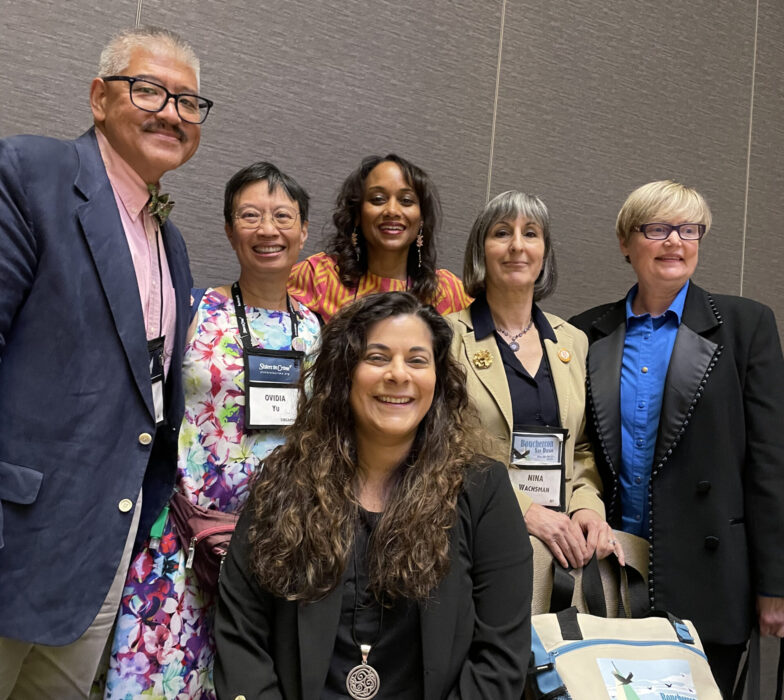 After the signing, I ran into author Colin Conway (editor of A Bag of Dick's, which featured a short story I wrote that made Honorable Mention in The Best American Mysteries and Suspense 2022) and author Frank Zafiro (who edited The Tattered Blue Line which featured a short story I wrote, and Frank also wrote the blurb for Char Siu) and caught up with them before the evening events, a reception for Crime Writers of Color (Walter Mosley's group who introduced me with other "historical" crime writers of color) and witnessed my very first "Noir at the Bar" reading event.
Saturday, September 2, 2023:
Naomi Hirahara gave me a special mention on her panel with Gary Phillips and Duane Swierczynski about historic L.A. stories. This resulted in people asking where my books were after the panel, and me telling them they were gone, but go to
bambooridge.org
. That night I sponsored a banquet table with Naomi Hirahara and Ovidia Yu for the Anthony Awards. Our table was one of the first to fill up (no thanks to me).
Sunday, September 3, 2023:
I attended Kate Beutner's panel on historic research and picked up a copy of Killingly and had her sign it. Naomi and I had dinner with Kay Ochi and Amy Okamura of the Japanese American Historical Society of San Diego. We discussed ideas for events. Naomi said she and I should again look into doing an event together at the Japanese American National Museum in L.A.
Monday, September 4, 2023:
I woke up at 4:00 AM to get to my flight departing San Diego at 7:00 AM. I still ended up with a suitcase full of books, but they were all from other authors and many of them signed. I slept for most of the flight thanks to sheer exhaustion, screaming infants notwithstanding. Upon arrival… I went home and took a nap.