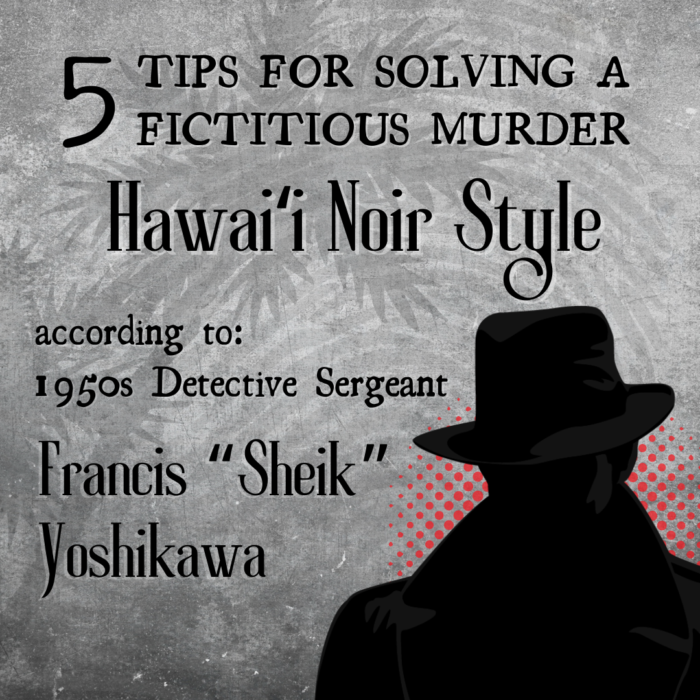 Being a homicide detective is a hard job and even though he's got a few vices, Frank "Sheik" Yoshikawa only wants to keep the streets of Honolulu safe.
Here are some tips to solving a murder according to this ace gumshoe!
1. Get somebody to say something.
Nobody here wants to say anything. Local people are too polite, too embarrassed, or too tough. Start prying some mouths open.
2. Money talks.
Find the folks behind the scenes -valets, cocktail waitresses, bellhops and bartenders. They see a lot and work for tips. Grease them.
3. Bluff
Information is the upper-hand. Act like you have it. Suggest you know more than you do, and they'll fill in the blanks. It's only a lie if they call you on it.
4. ʻŌkole maluna
Sometimes, when you're stuck, you need something bad to happen. When you mix business with booze, bad things happen.
5. Cherchez la Femme
Women. We adore them until we have to live with their hidden truths, and by then it's too late. They're smarter than men and often underestimated. Overlook them at your peril.
Check out Scott's first book KONA WINDS and other new titles from Bamboo Ridge Press