A look at BRWI through old newsletters
This year Bamboo Ridge has faced many challenges and like so many other businesses and nonprofit organizations we are working hard to adapt to the current climate.
The lack of book events this year inspired us to revive the Bamboo Ridge Writers Institute, a two-day writers conference popular in the early 2000s. This will be the fifth one hosted by Bamboo Ridge and it will be entirely virtual. Since it's been over a decade, we thought it might be fun to revisit some of the BRWIs of the past.
Looking back through some of the past flyers, newsletters, and articles it seems we have a lot to live up to this year! Previous conferences were attended by hundreds of writers and readers; students, teachers, emerging authors and established ones. BRWI V(irtual) won't be nearly as big, or have as many panels and workshops, but we hope it will still have the same spirit and energy.
We kept the program short since it's our first foray into webinar events and it's just harder to stay awake on Zoom than it is attending a conference or workshop in person!
But our predecessors in planning were very ambitious with the first BRWI. Look at all these panels and workshops, plus open mic sessions, masterclasses, and bento lunch!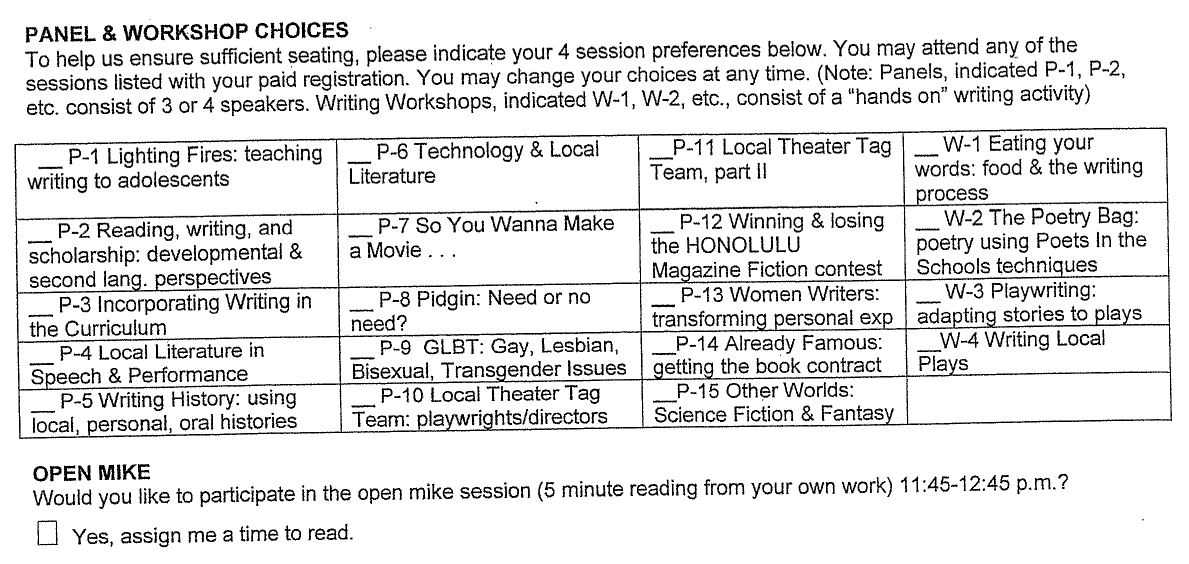 Like the first BRWI all the way in 2001, this year, our FIRST virtual conference, is an experiment, the first steps in (re)establishing an event that we will try to continue annually. We hope that after this BRWI V(irtual) we are still smiling like these guys below.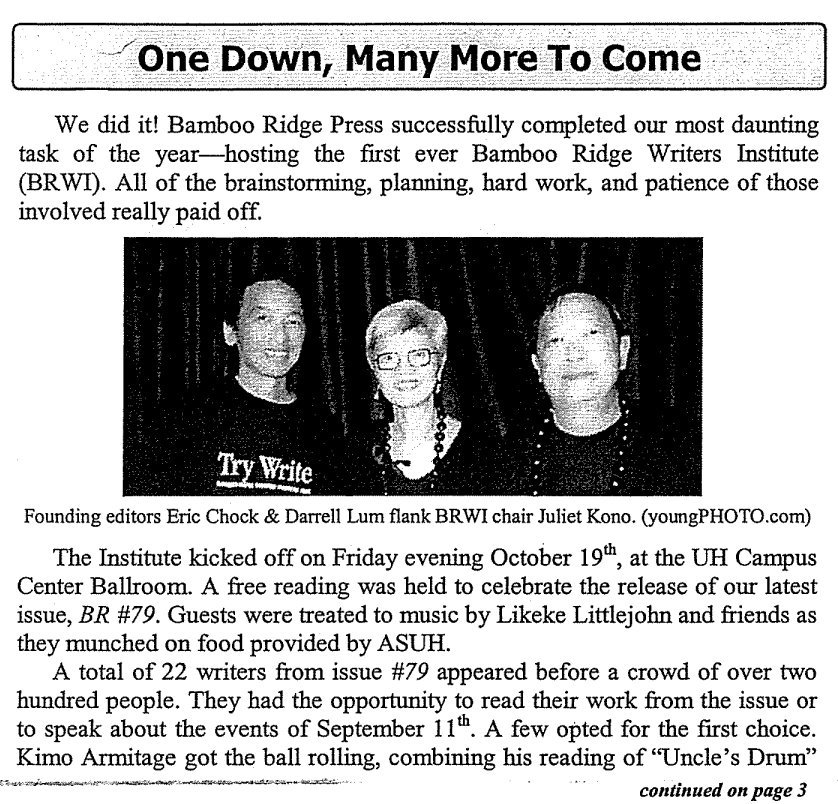 Reading these old newsletters and articles it's hard to fathom how so much talent could exist in one place. Bamboo Ridge has been fortunate to foster relationships with many accomplished writers and this is reflected in the guest and panelist lists of these past conferences. So many recognizable names! But as much as things have changed over the years, and this one especially, it's good to see familiar faces like Brenda Kwon, Susan Schultz, Lee Tonouchi, Lois-Ann Yamanaka and others returning for BRWI V. Check out the slide gallery below and see if you can spot them and other people in the BR 'Ohana.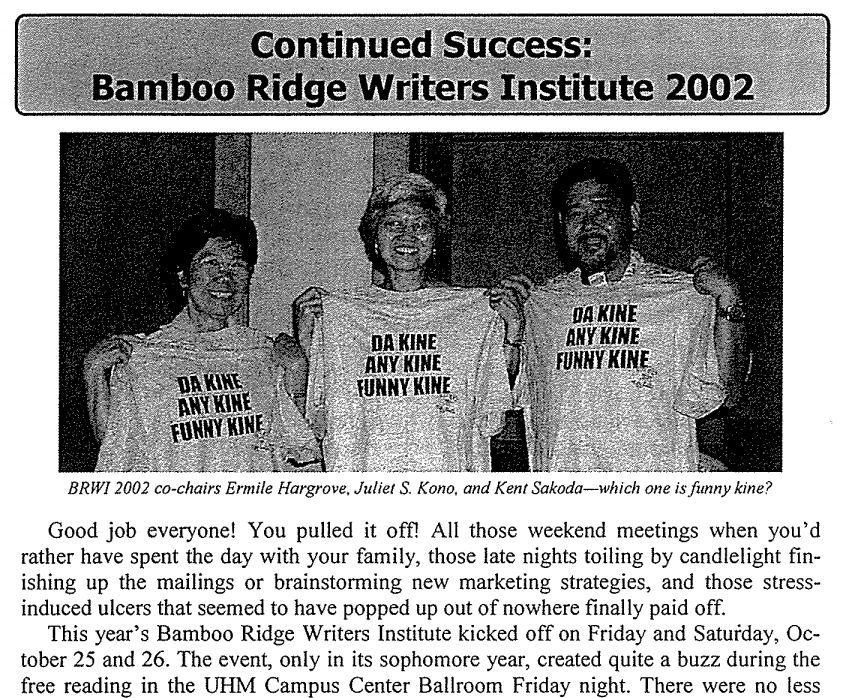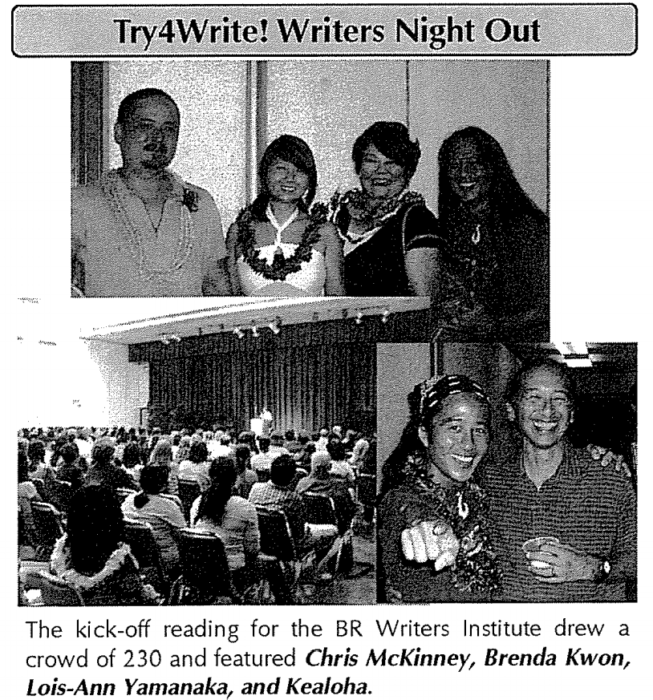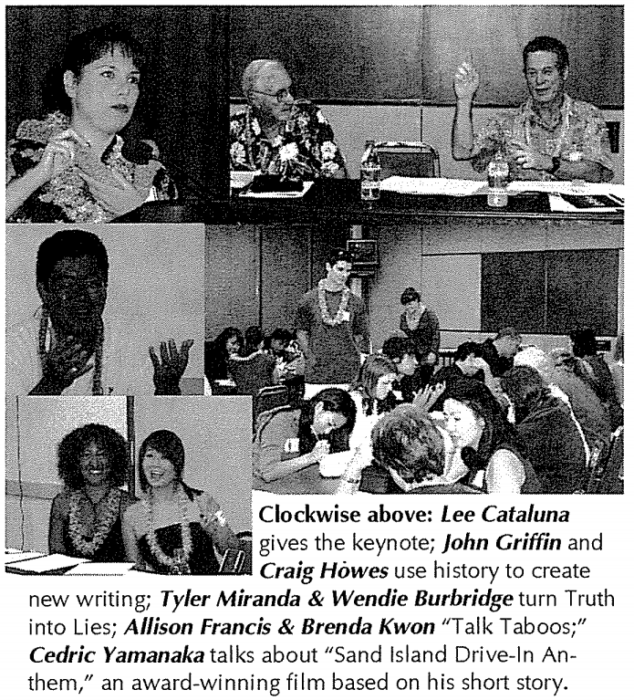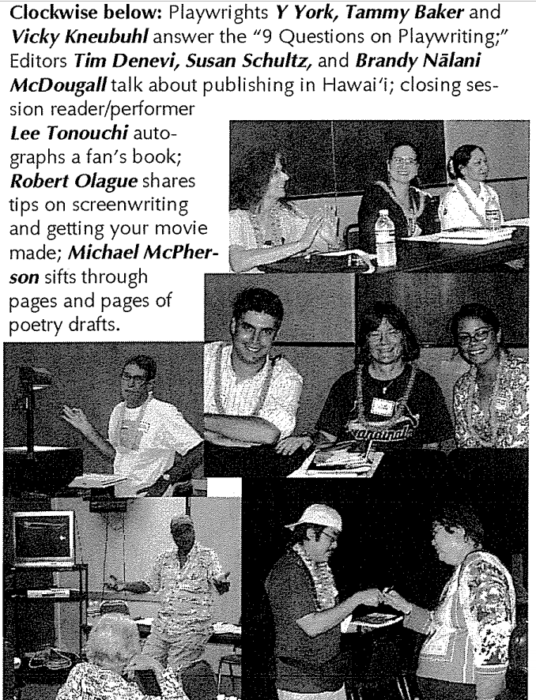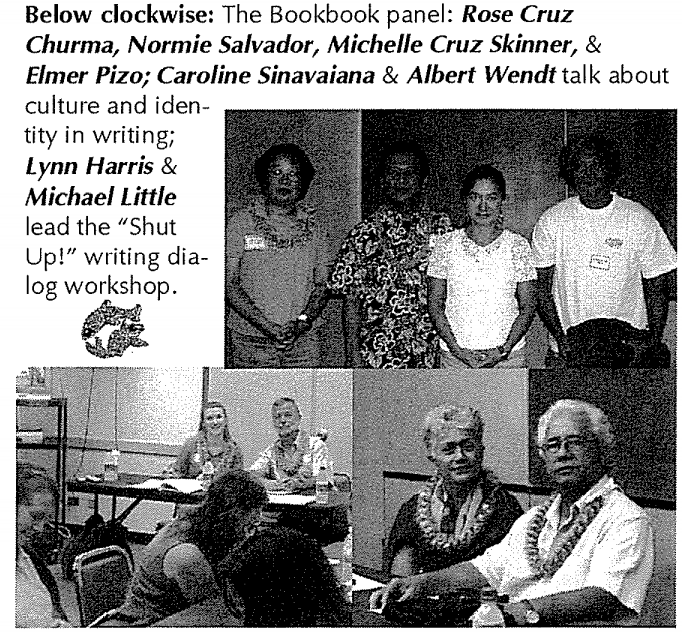 As different as this new BRWI will be, now and in the future, we can always count on our Bamboo Ridge kupuna members for their guidance and opinions (especially the opinions). We had debated what to call this event, for awhile it was "BRWI: The Remix" but since we were taught to listen to our elders and the elders say "stick wit' da puns," of course we wen listen!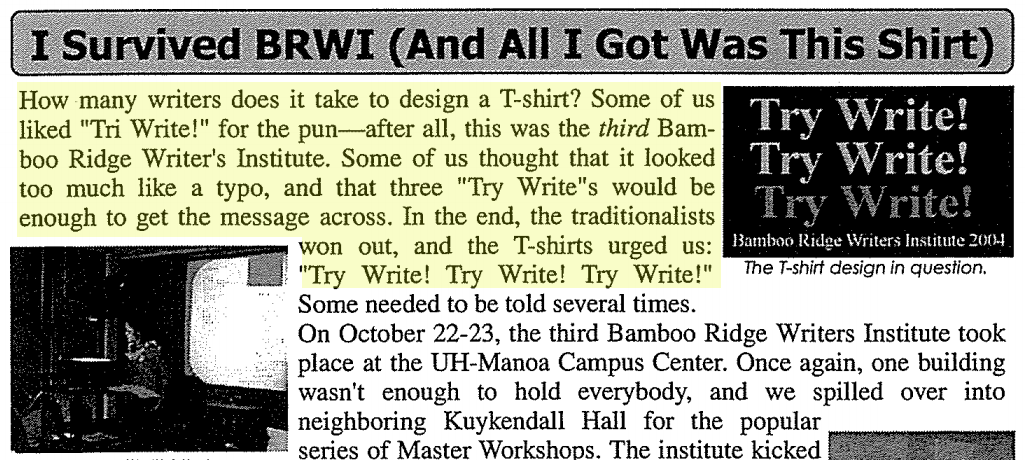 So now you know why we're calling it BRWI V(irtual)! If someone has a good pun idea for BRWI 6 next year, let us know in the comments below or send us an email.
If you're interested in seeing these old newsletters and programs, you can download PDFs here:
Maybe we should have called it "BRWI Try Write V(irtual)" for consistency. 🙂
Anyway, we hope you'll join us next weekend 10/24 and 10/25 for our first, and hopefully not last, virtual writers conference. Check out the full program here.
Get your tickets!
Here are some of the BR books by people who will be panelists, moderators, or workshop leaders during the conference:
Author Michael Little shares a memory of leading a BRWI workshop
I remember one BRWI workshop I led on writing dialogue.  I like workshops that are fun and also useful.  We watched scenes from two comic movies: My Cousin Vinny (the grits scene at the lunch counter) and Legally Blonde (the early scene in the restaurant when Elle Woods expects a marriage proposal but is dumped by her boyfriend, who tells her, "If I'm gonna be a senator, well I need to marry a Jackie, not a Marilyn."  The idea is that one character has information that another character needs.  The boyfriend, Warner, has breakup information that Elle needs to know.  In My Cousin Vinny, Joe Pesci asks the cook, "How do you cook your grits?"  This detail is vital information later during the murder trial.  In the second half of the workshop everyone wrote and shared a short dialogue scene in which critical information is communicated from one character to another.
This basic approach to dialogue is very handy in constructing a scene.  There are a million examples, but I can share a couple of my own.  In my recent story "Kissing Frogs," there's a scene where the old wizard in the castle has information about how to find a handsome young prince, information that Gwyneth, the beautiful young princess, desperately needs.  The wizard tells her that "You've got to kiss a lot of frogs," making the princess react with "Ewwwwwwwwwww!"  Good for the comedy and, of course, the plot is off and running.  In my sequel to the Goldilocks tale, "The Case of the Runaway Blonde," Goldilocks' parents hire Sam, a private eye, to find their daughter.  They have vital information about her that Sam needs, and then later, at the home of the three bears the bears have more information that he needs.  in the forest, he encounters seven little men, and that dialogue scene gives him even more information, more clues.  Of course, we all need clues in life, as do characters in fiction.  Otherwise, we are clueless.  Oh yes, Clueless, there's another comedy!